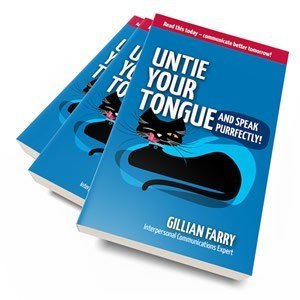 Though the digital age is very young, technology is evolving faster than many, particularly elderly people, can possibly cope with. There is no denying that Smartphones are extraordinary and the capabilities of personal computers truly astonishing. If we choose to, we can conduct global business from our bed or a moving vehicle. However, we are also seeing some adverse effects of the new technology on human communication. Frequent users have developed an abbreviation of language, which may be useful to some extent, but it does little for conveying intended meaning in interpersonal communication, except perhaps when it comes to bullying. Indeed, the anonymity technology provides has caused an upsurge in bullying and the consequence is an increase in teen suicide.
Gillian Farry, BA, MA and Master Practitioner in Neuro-Linguistic Programming, has written a book that I think should be mandatory in every school curriculum. Untie Your Tongue and Speak Purrfectly! is a concise guide to effective communication. (The book is illustrated with black cats, hence its purrfect quality.) Gillian reminds us that simply how we present to others is communication. If we are self-absorbed, lack empathy or fail to listen, communication with others will be less than purrfect. We need to be aware that our facial expressions and body language are as important as the words we say. And most importantly, we need to remember that we should not assume that our own personal meaning is included in our message, that if we say something, our meaning will be conveyed too. This is not the case. Everyone's understanding of language differs and everyone's perception of a situation changes with how they read the person saying it. When we are emotional, or if we are ambiguous, we cannot expect our meaning to be always understood.
If we only converse in 'text speak' or fail to learn to 'read' or listen to others, if we fail to learn how to communicate in a way that is expected of us in certain situations or if we do not develop empathy, we may not get out of life all that we could have. Gillian's excellent book teaches us what we need to know to communicate kindly and effectively.